Orlando Botox® Injection Specialists – Top Rated Medical Spa – Botox in Orlando
Botox® is an FDA approved cosmetic medication that is injected into the muscle to temporally improve the look of mild, moderate and sever lines. Botox® can help improve lines in the forehead, lines between the eyebrows, frown, and around the eyes. It can also soften neck bands, and dimpling of the chin. Botox in Orlando is a quick noninvasive procedure with little to no downtime.
Who is the ideal candidate for Botox/Dysport?
The ideal candidate for neuromodulators such as Botox and Dysport is someone who is healthy, concerned with their facial fine lines and understands the treatment process. Botox and Dysport is ideal for both women and men, the procedure can help decrease fine lines and improve concerns with the aging process.
What will the consultation be like?
Brittany Lane White ARNP, and the patient will have a thorough consultation before your treatment of any dermal filler. During your consultation Brittany will examine your skin, address your concerns, explain all of the procedures we offer including: risks, benefits, downtime, price and what to expect after treatment. She then will review your medical history including current medications, and answer all of the questions you may have. During this consultation Brittany will decide which product or service is the best for you and your specific goals. She will also discuss the amount needed and plan for follow up.
Who will inject my Botox/Dysport?
A certified nurse practitioner will be doing all of your treatments here at Aesthetic Lane. You will meet with the NP to discuss you concerns and goals, and she will be able to help you make a decision if Botox or Dysport is the right treatment for you.
How does Botox/Dysport work?
Botox and Dysport are medications comprised of the Botulinum Toxin. These medications work as a temporary muscle relaxing agent. These medications help to reduce the appearance of wrinkles.
Is it Botox/Dysport painful?
Most patients state that Botox/disport treatments are relatively painless. Aesthetic Lane uses ice and breathing techniques to help you relax through the procedure.
What can I expect for the recovery process from Botox/Dysport?
There is little to no downtime after a Botox/Dysport treatment. We do ask that you keep you head above you wais for 4 hours and do not perform and strenuous exercise, or sit in a sauna or steam room for 6 hours We also ask that you refrain from applying hard pressure on the area injected. You may have small red bumps in the area that was injected after the treatment, however these will dissipate in about 15-20 minutes.
How long will my Botox/Dysport last?
In most patients, Botox/Dysport last between 3 to 4 months.
Proven Botox® Techniques.
The appearance of younger looking, more radiant skin is desired by both men and women. Botox® can help you achieve a more youthful look by diminishing fine lines and wrinkles and help prevent excessive underarm sweat. As a powerful and effective neuromodulator, Botox® is an FDA-approved injectable cosmetic medicine that reduces the look of wrinkles.
How Botox® Can Help You
Botox® addresses common problem areas such as frown lines, crow's feet, lip lines, lines across the forehead, and can even prevent further development of deep wrinkles. Botox® is also FDA-approved to treat other medical conditions, such as hyperhidrosis and migraine discomfort. Botox® is a quick and noninvasive procedure that temporarily relaxes your facial muscles to lessen the look of fine lines and wrinkles. Aesthetic Lane has licensed and experienced staff to administer your Botox® injections. The injections are conveniently performed in our office, and have little to no downtime.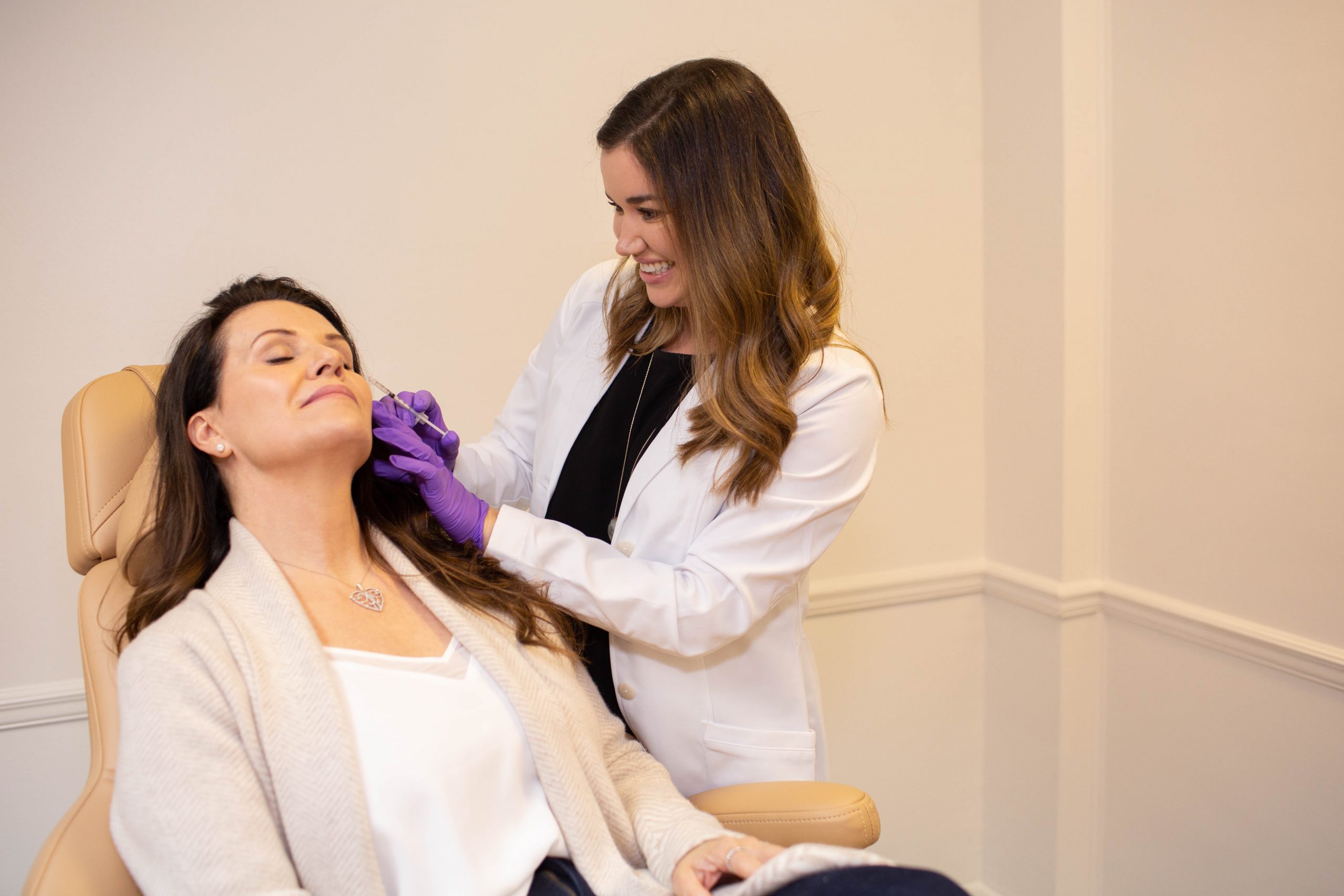 Botox® was accidentally discovered in the 1980s by an eye doctor searching for a cure for crossed eyes. His discovery cured crossed eyes, with an unexpected bonus side effect of reducing wrinkles. The FDA approved the use of Botox® for cosmetic purposes nearly fifteen years ago, making it more mainstream and attainable. Over the years, the benefits of Botox® have gone far beyond reducing wrinkles and fine lines. Botox® has since been approved by the FDA for its healing properties including migraine relief, muscle stiffness and spasms, hyperhidrosis, and uncontrolled blinking. The benefits from Botox® injections go beyond the cosmetic to help many people manage their pain and discomfort.
How Botox® Works
As a neuromodulator, or wrinkle relaxing injectable cosmetic medicine, Botox® temporarily smooths out wrinkles caused by exhausted facial muscles. Botox® inhibits brain signals from both the nerves and the muscles, helping wrinkles relax over time. During your initial consultation with Brittany Lane White, ARNP, she will examine your skin and review your full medical history to ensure you are an ideal candidate for Botox® injections. A licensed nurse practitioner will administer your injections, and address any questions or concerns you may have. Botox® injections only take a few minutes to administer, and does not require any anesthesia. You will feel a slight discomfort, but we help soothe the pain with ice and simple breathing techniques.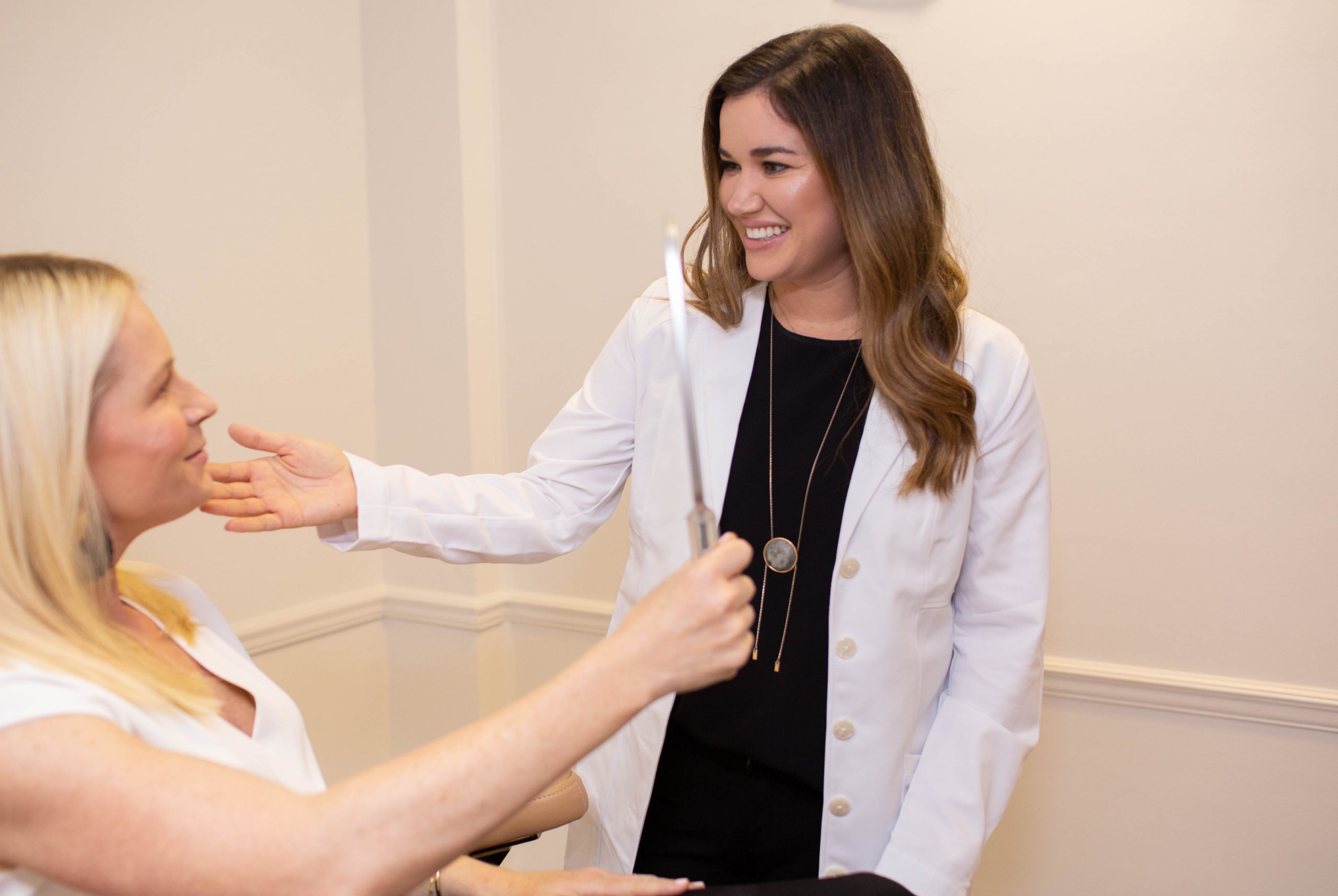 After you receive Botox® injections, there is little to no downtime. We recommend following the instructions given to you after your procedure. Aesthetic Lane recommends not lying flat, exercising, applying direct pressure to the injection site, or using a sauna 4 – 6 hours after your treatment. You may find small red bumps around the injection site immediately following the procedure, but they will disappear in 15 – 20 minutes. Botox® treatment lasts 3 – 4 months for most patients.
Botox® injections are ideal for both men and women who are concerned about the appearance of fine lines and wrinkles. Botox® is an FDA-approved neuromodulator used to diminish signs of aging. Aesthetic Lane features licensed, experienced, and knowledge staff to address your concerns with the aging process. Botox® is a quick and noninvasive procedure with beautiful results and benefits.
Schedule a Free Consultation Today!
Ask any query